A social robot to enhance children's handwriting skills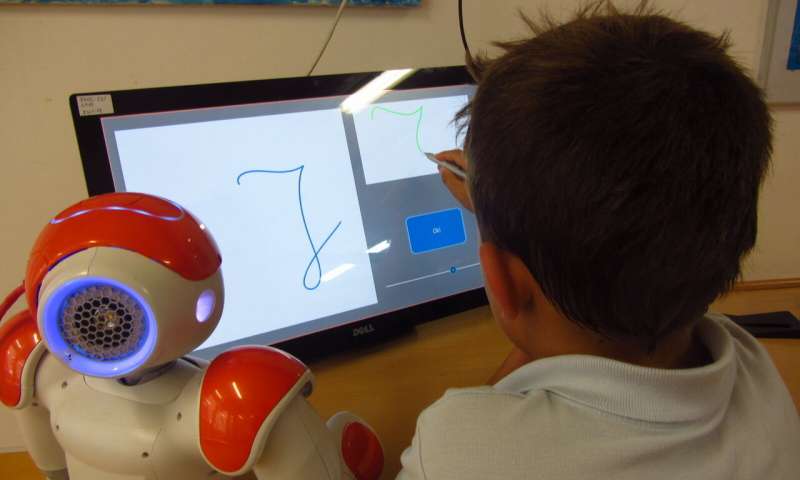 Credit: Chandra, Dillenbourg & Paiva.

Researchers at CHILI Lab (Ecole Polytechnique Fédérale de Lausanne) in Switzerland and GAIPS Lab (University of Lisbon) in Portugal have recently developed an autonomous system designed to assist children in improving their handwriting skills. The system they created, presented in a paper published in Springer's International Journal of Social Robotics, entails the use of a social robot in one-to-one learning sessions with children.
For some children, handwriting can be a difficult skill to acquire, yet it is a fundamental stepping stone in their academic path. In fact, poor handwriting can negatively affect a child's academic performance, self-esteem and learning motivation.
To master handwriting, a child needs to learn to coordinate cognitive, motor and perceptual abilities, thus he/she might also require a considerable amount of practice. This is why children who find writing by hand particularly challenging are generally offered extra support by their teachers during one-to-one sessions.
"As the acquisition of handwriting skills is a physical task and often requires physical assistance and interaction, contemporary technologies such as social robots can be used as a tool to supplement existing handwriting intervention methods for children," Shruti Chandra, one of the researchers who carried out the recent study, told TechXplore. "With this vision in mind, our research aims at exploring how a social robot can autonomously help children with the acquisition of handwriting with an approach where the children are the teachers who help the robot to improve its handwriting."
The recent study carried out by the researchers at the GAIPS Lab is part of a broader project called CoWriter. The core objective of the CoWriter project is to build a robotic partner that children can teach handwriting to.
The general idea behind this is that teaching a robot how to write by hand can help children to improve their own ability to write; a paradigm known as learning-by-teaching. Past studies suggest that learning-by-teaching practices can be very effective in education, as they allow children to reflect on their own errors and improve, ultimately enhancing their academic skills, motivation and self-esteem.
"We developed an autonomous educational system incorporating a social humanoid robot (Nao by SoftRobotics) that provides a scenario for children to improve their handwriting skills, Chandra explained. "The current system relies on the learning-by-teaching paradigm with the goal of answering a question: How would the learning capabilities of a tutee impact the learning of a tutor?"
Chandra and his colleagues designed a one-to-one scenario that involves an interaction between a child and a social robot, in which the child takes on the role of a teacher or tutor, assessing the robot's handwriting skills. This learning scenario is designed to improve children's handwriting skills by asking them to tutor someone else. The learning system proposed by the researchers is fully autonomous, so it does not require any additional work or supervision during the child-robot interaction.
"The interaction begins when the robot asks for help from the child in correcting shapes of a few letters," Chandra said. "First, the robot writes a deformed letter on the screen and asks the child to correct it using the computer screen. The child performs correction by changing the shape of the letter through a slider and also provides demonstrations of the letter on the screen."
During the child-robot tutoring session, the robot makes some of the most common handwriting mistakes observed in 4-8 year old children, associated with proportion, breaks and alignment. This allows the child who is tutoring the robot to reflect on some of his/her own mistakes while correcting errors made by the robot.
To evaluate the effectiveness of the teaching system they developed, Chandra and his colleagues carried out two longitudinal studies in Portuguese primary schools, each involving four robot-child one-to-one tutoring sessions. They evaluated each participating child's handwriting skills and his/her perception of the social robot both before and after each session.