Dry ice could prevent rail delays caused by 'leaves on the line'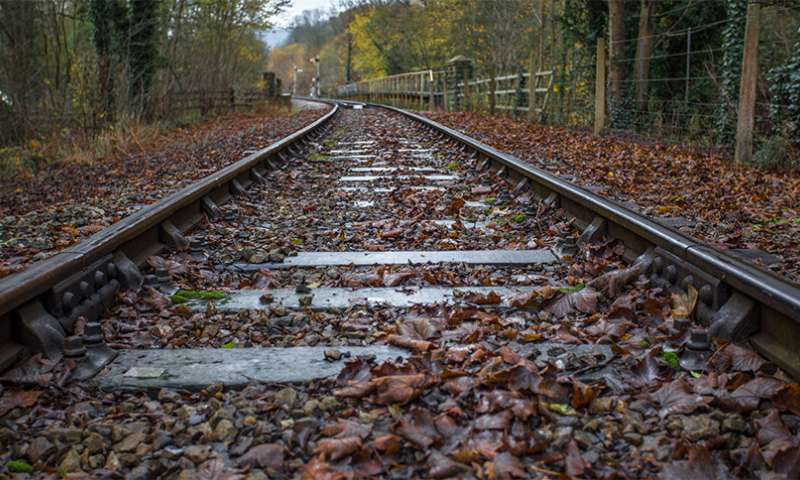 50 million leaves fall onto railway lines every autumn in the UK causing delays for rail passengers at an estimated cost of £345 million. Credit: University of Sheffield

Researchers from the University of Sheffield, in collaboration with Icetech Technologies, have used dry ice to develop a new solution to the problem of leaves on the line, which cause delays, cancellations and timetable changes for rail passengers.
Millions of trees line the 20,000 miles of rail track in the UK, shedding an estimated 50 million leaves onto the tracks every autumn. As the leaves fall onto the rails, they are compacted under the weight of trains into a smooth, slippery layer sticking to the tracks and causing trains to lose their grip—the rail equivalent of black ice on the roads.
To compensate for these conditions, trains may travel at slower speeds with drivers braking earlier when approaching stations and signals and accelerating more gently to avoid wheel spin. Signalling systems can also be affected, as the electric currents used in tracks to detect trains are often affected by leaf contamination, leading rail companies to leave longer gaps between trains for safety reasons—adding to the delays and disruption.
While this is all in the interest of rail passenger safety, it leads to increased journey times, delays, cancellations and reduced timetables. According to the Rail Safety and Standards Board, autumn-related issues are estimated to cost the railway industry approximately £345 million per year and cause a huge inconvenience for the 1.7 billion people who travel by rail.