Start-up unveils robot with human-like dexterous grip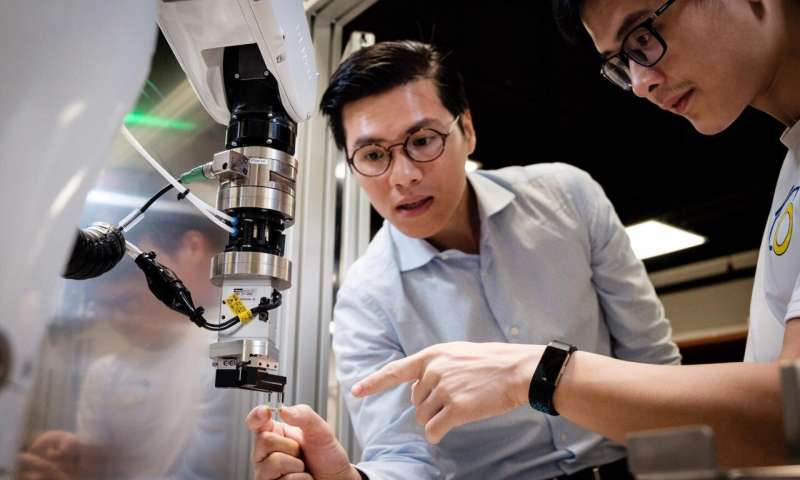 Associate professor Pham Quang Cuong (left) working with lead engineer Dr Pham Tien Hung on Archimedes. Credit: NTU Singapore

A robotics technology start-up from Nanyang Technological University, Singapore (NTU Singapore) named Eureka Robotics, has unveiled a new robot that can pick up delicate optical lenses and mirrors with care and precision, just like a human hand.
Named Archimedes, the robot is developed by the same NTU team behind the "IKEA Bot" last year which attracted international headlines when it assembled an IKEA chair autonomously in less than 9 minutes.
Archimedes can slot lenses and mirrors of different sizes into a custom loading tray, to get them ready for coating.
This will be a boon to the manufacturers for optical products such as cameras, medical imaging and eyewear, as it eliminates defects in production and improves productivity.
In 2017 the Global Optical Instruments and Lens Manufacturing Market was worth $19.1 Billion and is expected to reach $27.0 Billion by 2022, according to a market report by international market research firm Research and Markets.
Archimedes has a 6-axis robot arm controlled by algorithms that use artificial intelligence (AI) to plan its motion and how much force to exert in its grip to create a system that can mimic the dexterity of human fingers and the visual acuity of human eyes.
NTU Associate Professor Pham Quang Cuong, who founded the spin-off company Eureka Robotics, will unveil Archimedes at the leading trade event in Southeast Asia for Industry 4.0, Industrial Transformation ASIA-PACIFIC 2019.